As the year winds to a close, I reflect on yet another productive year for Earth Harmony Habitats and its drive toward creating homes that exist in harmony with nature. Homes that are net restorative, that harvest their own energy via solar panels, collect all their water through rainwater harvesting, have zero waste through nutrient recycling and grow all their own vegetables through vertical and raised bed gardens.

My thanks go out to the dedicated volunteers, advocates and the myriad other invaluable contributors who have taken strides toward manifesting Earth Harmony Habitats during 2013.
Highlights of 2013
January
Sustainable Home Professional course
A six-month certification program to develop the technical expertise to design and build high-performance homes.
February
LEED Green Associates
Achieving the LEED Green Associate certification. This certification demonstrates a solid, current understanding of green building principles and practices.
March
Better Living Show 2013
Earth Harmony Habitats presented at a Portland trade show featuring ecologically minded home and lifestyles. This was an excellent opportunity to share the concepts with over 10,000 attendees.
April
May
Living Building Challenge and Earth Harmony Habitats presentation
On May 14th, I gave 3 lectures to students of Washington State University in Vancouver, WA. The lectures discussed the Living Building Challenge and how it influenced Earth Harmony Habitats. Here is a 30 minute overview http://www.youtube.com/watch?v=6cD9AA-IayM
Energy Model
Researched the parameters for building a Net Zero multifamily apartment complex for a local construction firm.
June
Village Building Convergence
Earth Harmony Habitats, along with the Co-Housing associations of Trillium Hollow, Cascadia Commons and Columbia Eco-Village, teamed up to hold an open house and discussions over the weekend of the Convergence. Earth Harmony Habitats was presented on June 1st, from 1:00 to 2:00 at the Pond House in Milwaukie. At 3:00 pm, we visited a demonstration project of the Vertical Gardens.
National News
Earth Harmony Habitats makes national news with the Examiner which highlighted Earth Harmony Habitat's plan to build a complex of small family homes which combine the best in sustainable development and vertical gardening into a vibrant community. The Examiner.com is wholly owned by The Anschutz Corporation, one of the largest sports and entertainment companies in the world. http://www.examiner.com/article/earth-harmony-habitats-plans-for-a-sustainable-community
BPI certification
Received certification as an Envelope and Building analyst advisor.
SHP certification
Completed certification as a Sustainable Home Professional, garnering much technical expertise to design and build high-performance homes
WUFI-Passive training
To further my certification as a Certified Passive House Consultant, I attended two day training on the latest software used to model homes to attain super energy efficiency. WUFI (Wärme Und Feuchte Instationär)-Passive combines passive building energy modeling with WUFI's famed hygrothermal analysis power–essential to preventing moisture issues and to optimize for cooling/dehumidification conditions
July
Construction Drawings!
John O'Renick, student at PSU, volunteered to develop construction drawings for Earth Harmony Habitats. John is experience carpenter, energy assessor, and builder, and his insights while learning CAD drawing software will be appreciated. This is a great opportunity to detail out the concepts.
August
Vertical Gardening Presentation
The NW Permaculture Convergence 2013 invited me to make a presentation on the vertical gardens. The speaking opportunity gave me the chance to compare and contrast a soil based vertical garden to a hydroponic garden to an audience of avid enthusiasts. See the full presentation at (http://youtu.be/FFr-ozYqeDk)
September
Harvesting of full crop of 10 pounds of cherry tomatoes, along with nearly weekly harvesting of greens from the vertical garden prototypes.
October
Living Future Local Host Community Outreach Chair
I have been invited to be Chair of the Local Host Outreach Committee for the Living Future 2014 conference, May 21-23 2014. This is a gathering of several thousand like-minded individuals interested in creating buildings that flourish within an equitable share of Earth's carrying capacity. Tickets go fast, and always sell out. Save the date now, or even go online and assure your ticket today. Register at http://living-future.org/register
NW Eco Building Guild retreat
I attended the NW Ecobuild Guild retreat (http://www.ecobuilding.org/), to convene with builder and architects involved in creating ecologically responsible buildings. My kind of people!
Earth Harmony Habitats Meeting
Held a meeting this month to update progress made over the last year and to reach out to homeowners who might be interested in building one of these units as an accessory dwelling unit (ADU) in their backyard.
November
December
Construction Drawings
John O'Renick completed the first draft of Earth Harmony Habitats construction drawings. Congratulations to John for his insights into the construction process. Another essential step closer to manifesting the dream and make the project a reality!
Marketing Campaign
Collaboration with Future Stewards LLC, a new, cutting edge, cross-channel marketing firm to create a progressive online, offline, video and social media presence and follow up system in target markets for Earth Harmony Habitats.
New Business: Four Elements Engineering
My business is evolving, combining my passion for fostering sustainability with my skills and knowledge in engineering. Named "Four Elements Engineering", we collaborate with architects and builders to provide comprehensive research, engineering and design to create sustainable buildings that are in harmony with nature and have little or no ecological impact. We specialize in evaluating designs from four elements of design: Water, Air, Earth (nutrients) and Fire (energy). The goal is to collaboratively create buildings that flourish within an equitable share of earth's carrying capacity. See the new site at www.fourelementsengineering.com
Celebrating the achievements of the past year, I look ahead with optimism. With the spirit of sustainable, self sufficient homes, Earth Harmony Habitats continues to thrive, and the stage is set for a remarkable 2014.

Thank you for your significant interest and contributions to this journey towards creating homes that flourish within an equitable share of earth's carrying capacity.

Joyous Greenings,

David
You can never change things by fighting the existing reality. To change something, build a new model that makes the existing model obsolete. —

R. Buckminster Fuller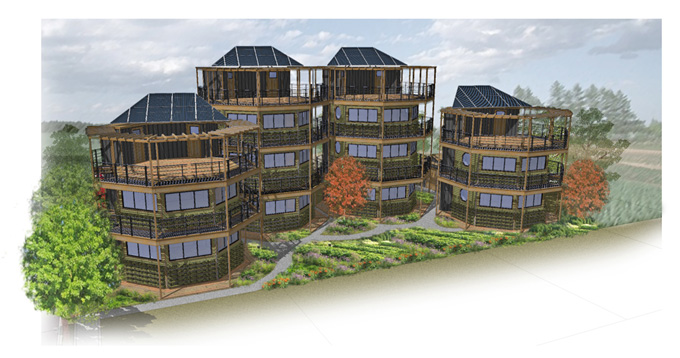 Flourishing within an equitable share of earth's carrying capacity.
Earth Harmony Habitats™
4917 SE Aldercrest Rd.
Portland, Oregon 97222-4757

Tel & Cell: (+1) 503 654 2070
email: This email address is being protected from spambots. You need JavaScript enabled to view it.